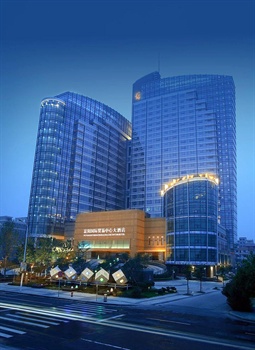 Situated next to the beautiful Fuchun River (Fuchun Jiang), the Fuyang International Trade Center Hotel (Fuyang Guoji Maoyi Zhongxin Dajiudian) is a five-star business hotel within easy reach of the Dongwu Cultural Park and Mount Guan (Guan Shan).
Riverside guestrooms offer expansive views of the lazy green river while rooms on the other side offer views of the nearby Mount Guan or look out over the city. This luxury Fuyang hotel offers spacious guestrooms with all the expected comforts.
At the on-site restaurants, guests can enjoy excellent Chinese, Japanese and Western cuisines. For something to drink, guests can go to the executive lounge or the lobby bar. The Rock House Bar around back of the hotel is also a favorite spot for many guests for grabbing a beer and hearing live music.
Guests can take a dip in the hotel's large indoor-outdoor pool. Those driving in Fuyang can make use of the hotel's huge underground parking lot.